WHAT IS AMMONITE ESU?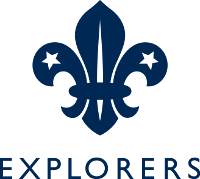 Ammonite Explorer Scouts are young people, usually aged between 14 and 18 years old. They make up the fourth section of the Scouting family after Beavers, Cubs and Scouts. A group of Explorer Scouts is called a Unit and meet regularly, but not necessarily weekly partly due to activities, holidays, exams and the other commitments that crop up in a teenager's life, and also because Explorers tend to get out and about at weekends more often than other sections.
Explorer Scouts often get the chance to work with other Explorer Scouts in their District, not just their own Unit, so can take part in an even wider spectrum of activities. There is also a range of ambitious badges and awards, through which Explorers can demonstrate their proficiencies and expand their interests.
We also help our Explorers achieve their DofE Bronze and Silver Awards.
DofE AWARD
The Duke of Edinburgh's Award programmes take between one to four years to complete, and they must be completed by the participant's twenty-fifth birthday. There are around 300,000 participants annually. The programmes are at three progressive levels which, if successfully completed, lead to a Bronze, Silver or Gold Duke of Edinburgh's Award.
With assistance from the Explorer Scout Leader, participants select and set objectives in each of the following areas:
Volunteering: undertaking service to individuals or the community

Physical: improving in an area of sport, dance or fitness activities

Skills: developing practical and social skills and personal interests

Expedition: planning, training for and completion of an adventurous journey in the UK or abroad

At Gold level, participants must do an additional fifth residential section, which involves staying and working away from home for five days, doing a shared activity
To achieve an award, the participant must work on each section for a minimum period of time, and must be monitored and assessed by someone with knowledge of the chosen activities. Each progressive level demands more time and commitment from participants: Bronze 3–6 months; Silver: 6–9 months; Gold: 12–18 months. Participants are required to show regular activity and commitment to the award for the duration of their DofE programme, which is usually at least one hour per week.
EXPLORER UNIFORM
This is where you should wear your badges on your uniform: